Client Relationship Management System
iCRM Benefits Your Business
Call us today at 1 800 87 7061 to find out more about our iCRM
About iCRM
iCRM is designed to help Call Centers, Businesses of all sizes, SOHOs, Small-Medium, and/or Industrial sectors. Use it as a business tool to complete or manage your business as it expands. To stay connected with your customers, we have integrated Bulk Email Marketing, Bulk SMS Marketing, and VoIP Softphone from our partners at iSMS & AlienVoIP.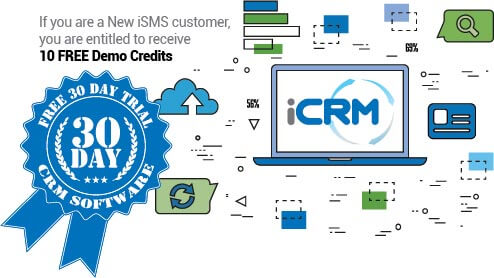 iCRM Features
Save Customer Contact details systematically
Search Contacts by filtering options
Sort Customer Contacts into groups
Set Membership Discounts for items and Customers
Insert new, on-going services based on each Customer
Communicate with clients/groups via the VoIP feature
Deliver SMS to chosen Contacts or Multiple Contacts
Send Messages via the internet to Clients
Compose Emails to selected or multiple preset addresses
Attach documents easily in Emails to deliver to Clients
Set recurrence reminder for items purchased by Customers
Include notes and update remarks while On Call
Record Call Details made based on Contact and Time in reports
View delivered SMS and Email Messages to Clients
Keep track of Past Services for a specific client in the service report
Visit Website
iCRM Benefits
The iCRM platform that encourages data sharing, centralized customer profiling, and integrated sales-marketing processes, opportunities to cross-sell and upsell your products will increase rapidly. Keeping track of your client's needs will develop strong relationships between them and your company. A better service to your customers would mean higher closing rates and improved profitability for your business.
Automate Your Business
With BMO's Quotation System, you can automate your sales quote, save time and ultimately, cost. You don't need to be an expert to create a quotation for your potential clients. On top of that, you can present proper quotations to your clients without using Excel spreadsheets. BizManagement Online has pre-built a quotation template. The good news is you may insert your company letterhead, making your quotation looking sleek and professional. Finally, pitching your sales to potential clients and seal the deal. If there is a need to add features, the user can always go to add a module page to subscribe to a new module.
Cloud Application Module
BMO Quotation System is one of our cloud application modules for small and medium enterprises. As a software created with you in mind, this software is capable to cover daily corporate operations.
Select products from the integrated inventory list
Customize quotation letterhead
Quotation Template
Manage contacts
Quickly Create Great Proposals
Increase quote accuracy by up to 80%
iCRM Online
iCRM Online allows you to access your iCRM account from any computer, laptop, smartphone, or tablet with internet access. The iCRM System is ideal for those who travel frequently like sales personnel.
Free BMO Android App
No data synchronization required
No software installation
24/7, global access
Share data among accounts
Access via internet
iCRM Offline
iCRM Offline Edition is packed with features to share your Stored Customer Information, Contact Customers, View Reports, Follow Up on Leads, Support Existing Customers, and more! Install the iCRM Offline software into your PC or laptop and start using it immediately.
Supports Win XP, Vista, 7, 8 and 8.1
Access in Office only, management in full control
Data synchronized to Cloud Server when internet available
Get iCRM System
Just register with BMO and manage your leave with ease!